Joseph Meeuwsen, MS, PA-C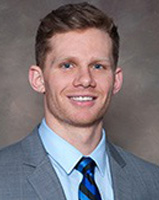 Joseph Meeuwsen
MS, PA-C
Jake graduated from Carroll University with a Bachelor's degree in Biology, minoring in Biochemistry and Psychology. He participated in three years of varsity basketball and one year of track during his undergraduate years. He remained at Carroll University to attend graduate school, graduating with a Master's degree in Physician Assistant Studies. Carroll's physician assistant program places an emphasis on cultural diversity, providing Jake with numerous volunteer experiences working with underserved populations in the greater Milwaukee area. He is a member of the American Academy of Physician Assistants (AAPA) as well as Physician Assistants in Orthopaedic Surgery (PAOS).
Jake works with Dr. Patrick Jost, specializing in sports medicine and arthroscopy of the knee, shoulder, hip, and elbow. He sees patients with Dr. Jost in the office, and assists Dr. Jost in the operating room.
Jake was raised in the Upper Peninsula of Michigan and enjoys running and biking when visiting home. Outside of medicine Jake's passion has always been athletics, and he remains active in basketball, soccer, running, tennis, and golf.