Erik A. Dygulski, APNP, ATC-R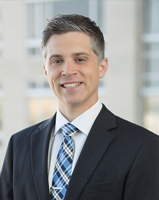 Erik A. Dygulski
APNP, ATC-R
Erik graduated from the University of Wisconsin Milwaukee with a Bachelor's degree in Kinesiology with a focus in Athletic Training. While at the University of Wisconsin-Milwaukee he participated in the care of its thirteen Divsion I athletic teams and completed a sports medicine internship with Major League Baseballs Milwaukee Brewers. Following graduation Erik worked as a Board Certified Licensed Athletic Trainer for the Sports Medicine Departments at the University of Wisconsin-Milwaukee and Milwaukee School of Engineering. In 2011, Erik received a Master's of Science Nursing Degree from Vanderbilt University and actively maintains National Certification from the American Academy of Nurse Practitioners (AANP). Erik currently has over 15 years of orthopedic and sports medicine experience.
Erik works with Dr. Michael Gordon, specializing in sports medicine and arthroscopy of the shoulder, elbow, knee and ankle. He sees patients in the office with Dr. Gordon as well as assists Dr. Gordon in the operating room.
Erik grew up in Mt. Horeb, Wisconsin and enjoys running, playing soccer, and spending time with his family.